Facing the Challenge: Addressing the CNMI's Fiscal Crisis
<p>This Commonwealth Fiscal Response Briefing Paper has been prepared by the Governor&rsquo;s designated Fiscal Response Task Force at the invitation of Hon. Governor Ralph DLG Torres. The Task Force is comprised of:</p> <p><br /> &bull; Tracy Norita, Director Division of Revenue &amp; Taxation<br /> &bull; Matthew Deleon Guerrero, Financial Analyst<br /> &bull; Ryan Camacho, Financial Services Manager, Department of Finance<br /> &bull; Vicky Villagomez, Special Assistant for Management and Budget<br /> &bull; Jason Aubuchon, PITI/VITI Senior Program Manager, Graduate School USA<br /> &bull; Debbie Milks, CPA, Financial Advisor, Graduate School USA<br /> &bull; Kevin O&rsquo;Keefe, Economic Advisor, Graduate School USA</p> <p><br /> Technical support provided by the Graduate School USA team is made possible through funding support from the Department of the Interior&rsquo;s Office of Insular Affairs.</p>
Link to This Page:
https://pitiviti.org/storage/dm/2023/01/cnmi-fiscalresponse-briefingpaper-final-20230113220431593.pdf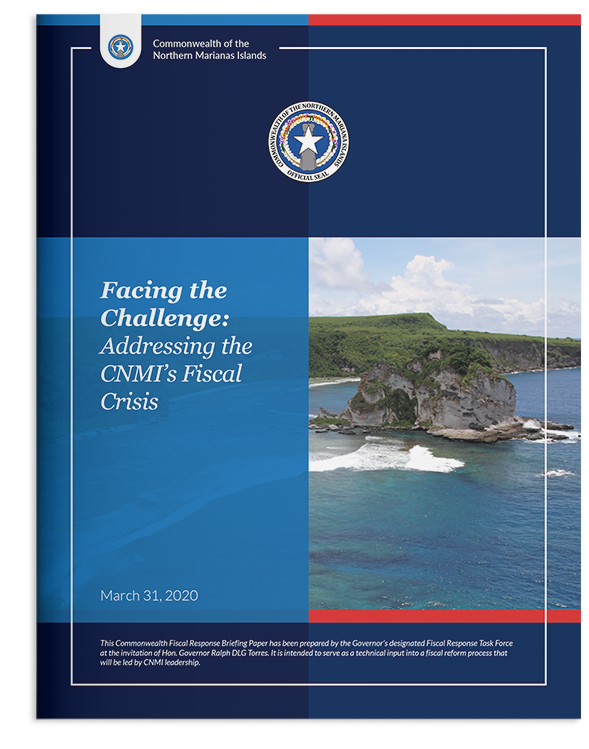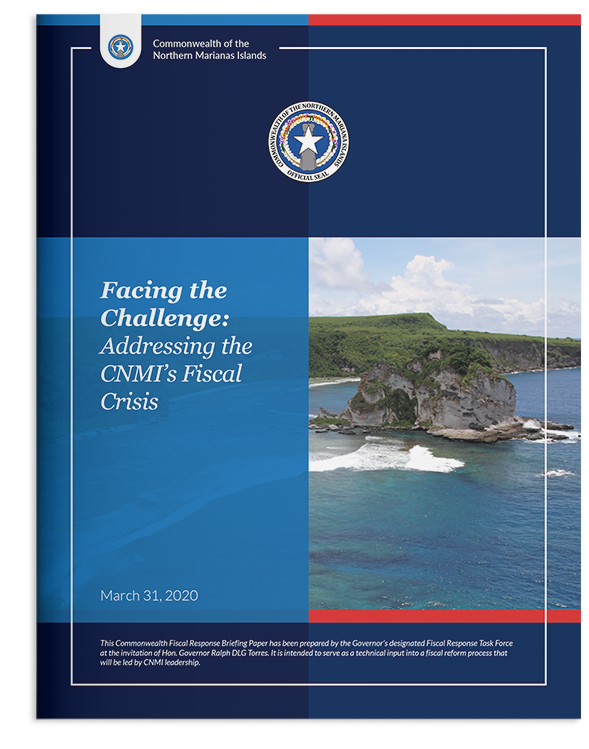 Download PDF
1.87 MB

Northern Mariana Islands
Facing the Challenge: Addressing the CNMI's Fiscal Crisis
Posted Mar 31, 2020
This Commonwealth Fiscal Response Briefing Paper has been prepared by the Governor's designated Fiscal Response Task Force at the invitation of Hon. Governor Ralph DLG Torres. The Task Force is comprised of:

• Tracy Norita, Director Division of Revenue & Taxation
• Matthew Deleon Guerrero, Financial Analyst
• Ryan Camacho, Financial Services Manager, Department of Finance
• Vicky Villagomez, Special Assistant for Management and Budget
• Jason Aubuchon, PITI/VITI Senior Program Manager, Graduate School USA
• Debbie Milks, CPA, Financial Advisor, Graduate School USA
• Kevin O'Keefe, Economic Advisor, Graduate School USA

Technical support provided by the Graduate School USA team is made possible through funding support from the Department of the Interior's Office of Insular Affairs.
Link to This Page:
Sign up for the PITI-VITI
mailing list

to receive notifications of future publications.
Thank You for Subscribing to the PITI-VITI Mailing List!
Related Publications