IGFOA Winter 2023 Conference Report
<p>The Island Government Finance Officers&rsquo; Association (IGFOA) Winter meeting took place in Honolulu, Hawaii, from February 14-16, 2023. This was the first time since 2019 that the IGFOA had an opportunity to meet in person, and the theme for this year&rsquo;s conference was &ldquo;Resetting.&rdquo;</p> <p>Forty-eight finance leaders across the U.S.-affliated Pacific Islands, including American Samoa, Commonwealth of Northern Mariana Islands, FSM National Government, Chuuk, Pohnpei, Yap, Guam, Republic of Palau, the Republic of Marshall Islands, and U.S. Virgin Islands, came together to share their experiences, exchange ideas, and discuss strategies for managing their respective island&rsquo;s financial situations. Their discussion covered various topics, including federal grants, GASB 87, 94, and 96, resetting performance measures, tax reform, and discussion of COVID-related challenges.</p>
Link to This Page:
https://pitiviti.org/storage/dm/2023/06/igfoa-2023-final-report-digital-remediated-20230605195512736.pdf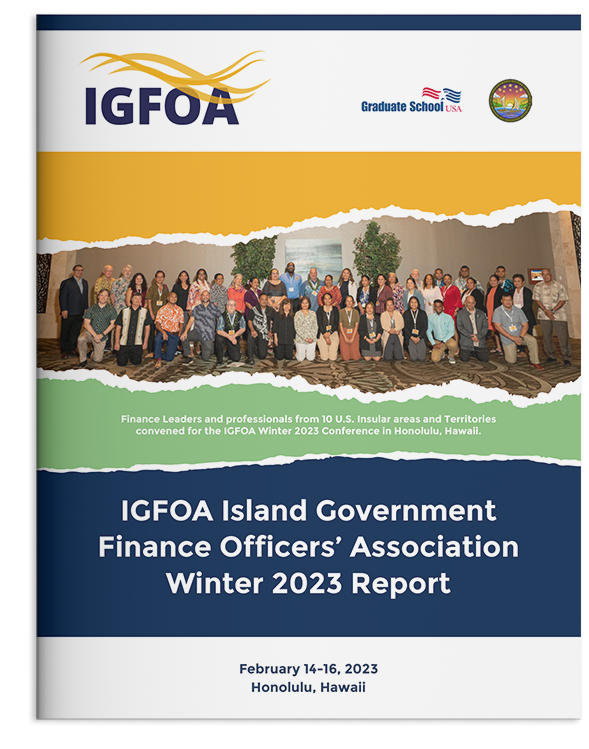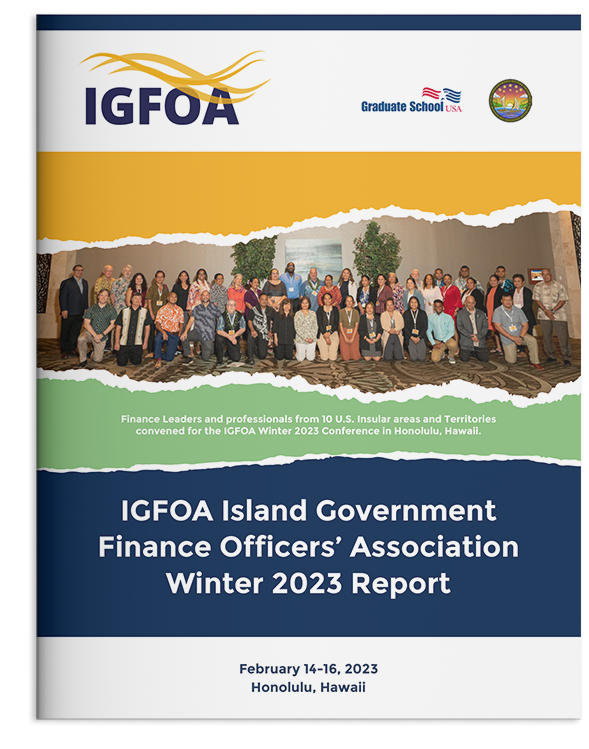 Download PDF
10.21 MB
IGFOA Winter 2023 Conference Report
Posted Jun 05, 2023
The Island Government Finance Officers' Association (IGFOA) Winter meeting took place in Honolulu, Hawaii, from February 14-16, 2023. This was the first time since 2019 that the IGFOA had an opportunity to meet in person, and the theme for this year's conference was "Resetting."
Forty-eight finance leaders across the U.S.-affliated Pacific Islands, including American Samoa, Commonwealth of Northern Mariana Islands, FSM National Government, Chuuk, Pohnpei, Yap, Guam, Republic of Palau, the Republic of Marshall Islands, and U.S. Virgin Islands, came together to share their experiences, exchange ideas, and discuss strategies for managing their respective island's financial situations. Their discussion covered various topics, including federal grants, GASB 87, 94, and 96, resetting performance measures, tax reform, and discussion of COVID-related challenges.
Link to This Page:
Sign up for the PITI-VITI
mailing list

to receive notifications of future publications.
Thank You for Subscribing to the PITI-VITI Mailing List!
Related Publications